I have finished renovation of HappyMood sim and spring has come to HPMD. 🙂
The landscape has been still made roughly but I want to keep making here little by little.
…And I had forgotten to add a notice of a new item which released a month ago!
Contents
HPMD* HPMD* Cliff Hill – A
HPMD* HPMD* Cliff Hill – B
(HUD)Cliff Hill – Batch Control HUD
Mod/Copy/NoTrans
Full Mesh
Contain Physics
Dialog and HUD Options
-Changing grass texture
-Changing rock texture
-Resizing
-Deleting script
Also, the ground (grass) textures for Cliff Hill added to the store in response to several requests.
The vendor is placed beside Cliff Hill's vendor, and the current terrain textures in the sim is shown on the top of the display board. I hope this will help you. 🙂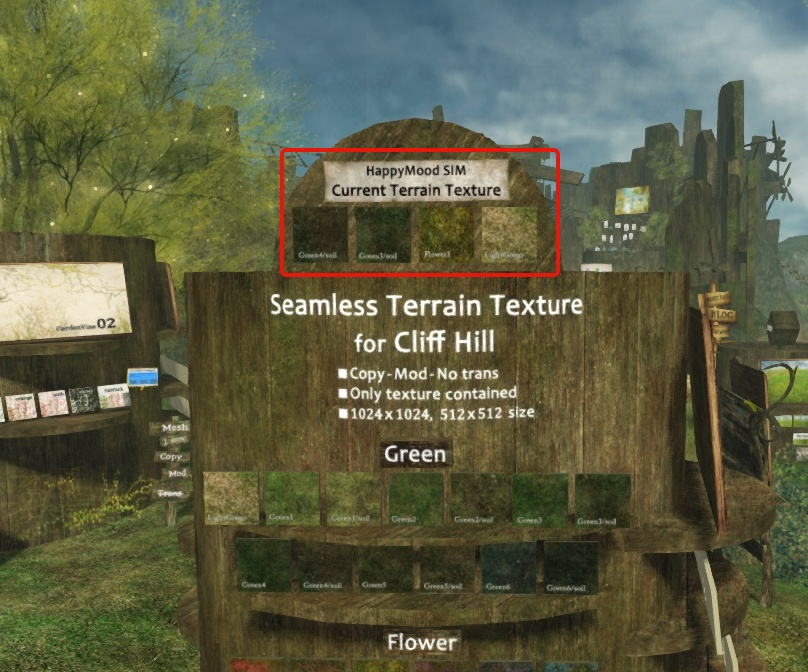 Many Hills has been displayed in the new spring landscape.
Please come to HappyMood in tender green!
HPMD Main Store
http://maps.secondlife.com/secondlife/HappyMood/88/93/23
Have a Happymood<3
Sasaya
HPMDにもようやく春がやってきました。
ブログでのリリース告知を忘れていた新作のCliff Hillが、simの全域にもりもり置かれています。気付けば色バリエーションをかなりたくさん作ってしまっていて、それらをボツにするか採用するか、どっちのセットに入れるか、、と悩んだ結果、Greenのセットには13色(+岩色5色)、FlowerとAutumnには6色(+岩色5色)、Snowには4色とかなり色数にバラつきがでております(゚∇゚;)
含まれる色数が違うためお値段にも差がありますので、ご購入の際はご注意ください。
sim内でも何色か使って地面の色に変化をつけているので、ご興味がありましたらほんの~り観察してみてください。
また、Cliff Hill用の地面(Grass)テクスチャの販売も開始しました。地面テクスチャをCliff Hillと合わせたい場合は、テクスチャベンダーをCliff Hillのベンダーのすぐ隣に設置してありますので、併せてチェックしてみてください。
時々simの地面テクスチャについてお問い合わせをいただくので、テクスチャベンダーの上のほうに現在のHappyMood simの地面に使われているテクスチャも表示してみました。ご購入時の参考にしていただければと思います。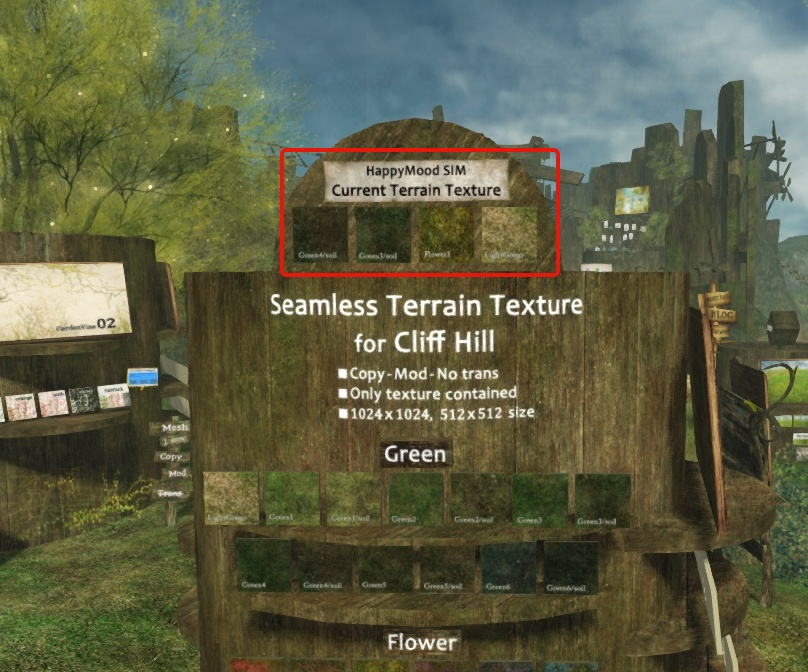 丘を作ったら今度はそびえ立つ崖が作りたくなった!というわけで、試作品の縦長崖もどかどかと置いていますが、あっちはまだまだ修正が必要な予感・・・。
最終的にどんな姿になるのか・・・乞うご期待!><ノ
現時点では大まかな景観を作り終えただけで、まだsim内はなんとなく物足りない雰囲気ですが、これからちょっとずつ、丁寧に作り込んでいきたいと思います。
着地点のデザインもそろそろ変えたいな・・・ウズウズ
・・・おや?なにやらsimに新しい住人がやって来たようです。
いつの間にやら、川の向こうに爽やかなツリーハウスが建っておりますぞ。
どうやらひよこのSALA Loonさんが建築士のようです。
これからどんな風にできあがっていくのでしょうか・・・とっても楽しみです(*´ω`*)
HPMD Main Store
http://maps.secondlife.com/secondlife/HappyMood/88/93/23
Have a Happymood<3
Sasaya